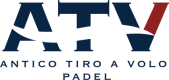 Padel is one of the most popular sports in Argentina and Spain, with 4.5 million amateur practitioners, as well as being fairly popular in Portugal and Sweden as well.
In recent years it has also seen strong growth in Italy.
The Ancient Clay Shooting invested in this sport in 2021 and created 2 latest generation fields. The fields have been created paying the utmost attention to the protection of the players, in particular the substrate, made of draining asphalt, combines the right speed of the rebound with the need to prevent traumatic effects. The LED lighting system also guarantees perfect visibility in the evening.
The ambition of our club is to compete at the highest levels and form an ATV Padel team that can compete with other sports clubs in the capital and beyond.
Every year, from September to June, a Padel school will be active for both beginners and more advanced categories of players, carefully followed by highly qualified instructors certified by the FIT, in view of an evolution towards competitive commitment.
Subsidized and promotional courses are offered to the members' children.